Nicki Seignot - founder, The Parent Mentor
Nicki Seignot is a working parent, coach and mentor. She's also the lead consultant and founder of 'The Parent Mentor' working with organisations to invest in returning talent.
Nicki set up her business after her own experiences of trying to return to work after having a family and those of her colleagues. She pioneered the introduction of maternity mentoring at ASDA Walmart in 2011 and over 200 returners have be mentored to date.

With recent figures suggesting that less than 2% of fathers take up the option of parental leave and the EHRC's research findings (published February 2018) accused British employers of 'living in the dark ages' with 'worrying attitudes' and 'unlawful behaviour when it comes to recruiting women' she is passionate about challenging businesses to take a more proactive approach to accommodate working parents.
1. Who inspires you?
My youngest daughter – she has dyslexia and dyspraxia and really struggled to succeed in a school system that consistently defined her by what she was less able to do. Getting a diagnosis changed nothing beyond assigning her a label. She has outperformed expectations. Her 'Purple Shark moments' i.e. her battles with confidence, our ongoing conversations and her determination to overcome obstacles became the rationale for my business and how in turn, I now work to support others.
Joeli Brierley – founder of Pregnant Then Screwed for her tireless campaigning, taking an idea and always thinking BIG. She offers no small ambition – to end maternity discrimination in the workplace for good. I was proud to march on behalf of PTS in October last year.
David Megginson – Emeritus Professor at Sheffield Hallam University and co-founder of the European Mentoring and Coaching Council. A practicing quaker, he brings elegant curiosity and a generosity of spirit to his conversations. My life and coaching practice are richer for knowing him.
2. What gets you out of bed in the morning?
At the risk of sounding egocentric it's about being a role model for my family. I want to dismiss the stereotype of mid-life career stagnation. I've hit my 50s and found them to be the most creative, productive time of my life. I get up in a morning knowing what I do makes a difference to people and organisations. When we become a parent for the first time, everything changes. At a fundamental level, that sense of self – the person we believed we were, now has an added dimension – that of a being mother, or father. What does that mean to someone? What happens when we later merge these two important (sometimes conflicting) identities? Who determines what's possible?
The business case for diversity is proven; diversity of talent in organisations delivers better results and increased profitability, yet there continues to be a gaping hole in many employers' approach to talent management at this specific time. These employees were the future once. They were (are) our graduates, our high potentials, our experts, our fast track talent – yet in the final analysis, the mix of parenthood and continuation of career is somehow incompatible for too many. The losers are the individuals and our organisations.
3. What keeps you awake at night?
I sleep in a permanent state of excitement because I genuinely love what I do. I'm also constantly trying to get a visual image of what's next in the diary and of course no week is ever the same. It can be so tricky to switch off. What sends me to sleep are my audio books; Simon Armitage reading 'Walking Home', Bryan Dick reading James Rebanks's 'The Shepherd's Life' and Colin Firth reading Graham Greene's 'The End of the Affair' are three of my go-to books. The key is setting the timer, assuring my husband it will switch off in x minutes and, hey presto, I (we) rarely hear the end of the chapter.
4. What's your signature meal and who would you cook it for?
This time of year it has to be rhubarb crumble. We're right in the middle of Yorkshire's Rhubarb Triangle and I have friends who have farmed rhubarb here for generations. Their forced rhubarb is grown in famously dark growing sheds dating back to the 1870s. Hand picked by candlelight, it tastes delicious! I'd cook for Simon Armitage; Yorkshireman, awesome contemporary poet and as far as I'm concerned, the next poet laureate in waiting.
5. How do you manage your time?
Working for myself, I've had to become really disciplined in my approach to diary management. I protect space for the big stuff – business projects, coaching and events, factoring in preparation time well ahead so I'm absolutely ready to deliver. The big stuff also means I make time for physical fitness and wellbeing, seeing friends and getting into the gym four times a week. Desk days and CPD (continuous professional development) are essential and part of business as usual. Working from home means I have zero commute time, which is a privilege, though it can be a little too handy. I confess to sliding into the office at weekends for a quick half an hour that too easily turns into 2 or 3.
6. Best bits (s) of advice ever received?
'Be brave. Just do it and you'll find your voice!' I came late to Twitter and those early tweets and posts on LinkedIn felt like some kind of high stake announcement. The reality? 452,000 tweets are sent every internet minute. It was – is – fine. I just needed to get on with it and stop wordsmithing every last sentence.
7. What are the best and worst purchases you've ever made?
Best - in my journey to develop my skills as a professional coach and mentor, I've bought a heap of books in the unspoken belief that I will somehow absorb their wisdom through a process of osmosis. Some arrive from Amazon and literally go straight on the shelf. In contrast, David Clutterbuck's book 'Powerful questions for coaches and mentors' is my go-to resource when I'm preparing for a conversation and a particular issue or topic is likely to come up. He is the creator of MDQs (massively difficult questions) designed to make someone pause and reflect at a deeper level. Try these two for size;
What would you do if you know you couldn't fail?

What will you realise in a year's time that you knew today?
Worst - thinking when I set up in business I needed the holy trinity of a MacBook, iPad AND an iPhone. I was forgetting my all time love affair with stationery. Despite appalling handwriting, I still prefer to use notebooks in meetings. The iPad is completely redundant.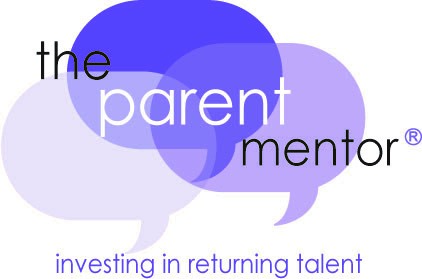 8. What is the closest thing to magic?
My phone – I have no idea how the technology works, but I'm in awe of these hand held devices that connect us and make life work. As a first time parent, up at 3:00 am feeding my daughter for the nth time one night, I remember glancing out of the bedroom window seeing a large fox trotting through the shadows across my neighbour's lawn. At that moment, it felt like the loneliest place in the world. Fast forward 20 years and I'm working with a group of recent returners talking about just such a scenario, only this time the retelling of the story is completely different: they are online in a group chat. 'Who's up?' 'What's happening?' The magic is the sense of community and support that comes with social media. What a difference it makes to have others alongside us using the technology at our fingertips. This doesn't have to be a solitary experience any more.
9. Do you have a mentor? What value do you think a mentor brings to a business?
David Clutterbuck - international coach and author, mentored me through publication of my first business book 'Mentoring New Parents at Work'. This would not have been possible without his support. Having written over 70 books, he knows what he's talking about!
Rebecca Fielding – rocket fuelled entrepreneur and MD of Grad Consult an award winning management consultancy in Sheffield. She never stops innovating and is a constant source of inspiration and challenge. I credit her with giving me the courage to kick-start this chapter in my career.
When you work on your own, it's tempting to have conversations with yourself, to be convinced that something is fact and perhaps not take a chance or be as brave as you could be. If we're open to it, mentors offer much needed divergent thinking, are invaluable sounding boards and sources of advice. They also know this is our journey.
10. What unusual food combinations do you enjoy?
A mug of Camomile Tea with a large chunk of Green & Black's 85% dark chocolate on the side. Nothing else comes close.
11. How can female entrepreneurs further support each other?
I've been blown away by people's generosity and willingness to give their time and advice. It can be a lonely place and more than a little confusing setting up in business for the first time. Female entrepreneurs can help by sharing their learning and practical inside tips, what's worked for them (or not), extending invitations to events, signposting professional networks and making useful connections. As we're helped, we help others; my accountants were recommended to me and I've set up two colleagues with them since.
12. What's something that will always be in fashion, no matter how much time passes?
Russell & Bromley's Cavendish Chelsea boots - don't ask the price. I invested in two pairs three years ago and they are still going strong. My definition of great shoes? When you can forget what's on your feet AND know they still look amazing.
13. What was the last thing you did that made you really proud?
In collaboration with EY LLP, I developed an internal mentoring programme for working parents as part of the EY Family Network. Having this project shortlisted for the Excellence in Diversity Awards in December 2017 was a professional milestone and fantastic piece of external recognition for the business.
14. If you were to give advice to a fellow female entrepreneur what would it be?
Decide what is your professional niche – your point of difference in the marketplace. Know the extent of your expertise and get help from others who can offer the things you can't. Stay connected – networking is easy when you have something to offer – know what that something is.
15. What does success look like to you?
Doing interesting work with interesting people. Being known as an expert in my field. Having a family alongside me that is thriving and happy.
contact
Website - www.theparentmentor.co.uk