lucy thompson - founder of SKINFLICTED
Lucy Thompson specialises in creating artistic realistic 3D nipple tattoos for women after they have survived breast cancer, had a mastectomy and reconstruction. The Art of Areola Restorative Tattooing or A.R.T as its more commonly known, is a globally growing Team of Professional Tattoo and Cosmetic artists who are dedicated, compassionate and hard working game changers.
Skinflicted is one of the very few studios in the UK to offer PERMANENT Nipple Tattoos as opposed to semi permanent, Lucy is also the first person in the UK to receive ART Training. One of the most important parts of what sets Skinflicted apart from the rest is that their 3D Nipple Tattoos are permanent, they will not go anywhere and will last a lifetime. The pigments they use also ensure the areola restorative tattooing won't fade or need retouching, unlike many medical and cosmetic tattoos often do. They are pleased to be able to make this service available to both women and men throughout the whole of the UK.
1. Who inspires you?
I inspire me! I never believed in myself enough to achieve even a quarter of the things I have in the past two years, and that in itself... is still mind-blowing. It inspires me to see what else I can achieve.
2. What gets you out of bed in the morning?
The thing that gets me out of bed, is the dream that one day I'll be comfortable enough to provide my son and I with anything we need, and just to be genuinely heart warming, happy every day.
3. What keeps you awake at night?
I find I'm usually up reading after thinking of a new idea or something I heard that day I hadn't heard of before, and wanted to research and educate myself further on.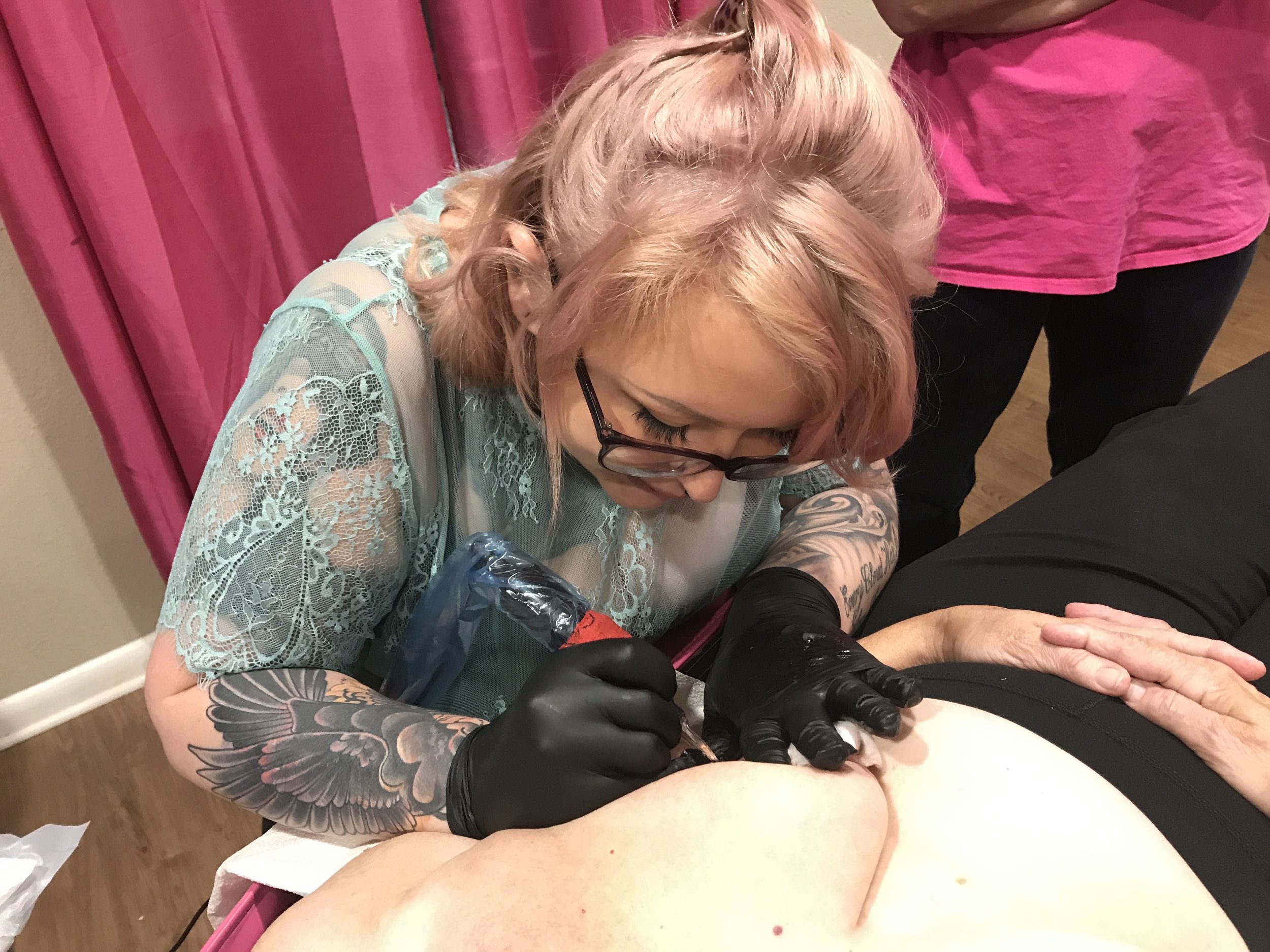 4. What's your signature meal and who would you cook it for?
It has to be my all meat lasagne, instead of pasta I make a bacon weave to separate the layers of various meats and cheeses, I would cook this for everyone. Everyone needs to sample my lasagne at some point in their lives!!
5. How do you manage your time?
I'm not sure how I manage my time, I work on average 60 hours a week, am also a very single full-time parent with a son who attends regular after school clubs and is part of the local rugby team. I am lucky to have an amazing childminder and incredible family and friends! Also, the girls in the studio help me with literally everything! I guess I have an incredible support network around me. I'm so very lucky!
6. Best bits (s) of advice ever received?
Someone once told me, if you spend time and energy concentrating on what your peers are doing.. that energy is being wasted and used for bad, turn it around, focus it on you and only you, you will see a whole world of difference.. I did it, it was the best advice I ever had, and it worked! Every time I find myself slipping a little, I find myself coming back to that day and its like I give myself a nudge in the right direction again.
7. What is the best and worst purchases you've ever made?
The best thing I ever bought were some silk lilac trainers with ridiculous huge bows on them from Bloomingdales in New York, just because.. I could!! I always wanted to go to that store and I was in New York on my own – like I ever thought that would happen!! So I bought the fancy trainers with the ridiculous bow and still wear them proud now!!
8. What is the closest thing to magic?
I think the closest thing to magic, has to be love.. for me anyway.
9. Do you have a mentor? What value do you think a mentor brings to a business?
Yes I have a couple of women who I'd consider to be someone I could turn to for advice, in my time of need. In the way of a mentor. They bring an alternative unbiased view, often prior experience, help with motivation and also reasoning when maybe you're feeling a little lost.
10. What unusual food combinations do you enjoy?
Any kind of meat and cheese combination is a winner for me, I also love cheese and chocolate! In pancakes, its great!
11. How can female entrepreneurs further support each other?
We can support each other by being open, approachable and aware of the fact that we are all in very similar situations but the majority of us are living a reality we have built ourselves. That's a pretty big thing – and something to be proud of! It's important we acknowledge our achievements and have people to relate to I think, it can be a scary place this business world!!
12. What's something that will always be in fashion, no matter how much time passes?
Cheesy chips! No question about it, they're a game changer for sure!
13. What was the last thing you did that made you really proud?
I just officially launched a brand new charity to support survivors of breast cancer, I'm still on a high from announcing it!
14. If you were to give advice to a fellow female entrepreneur what would it be?
When it feels scary, trust your instincts. You will find those difficult decisions and situations are often the ones that turn out to be some of the best decisions you ever made!
15. What does success look like to you?
Success to me, is having our very own home with a private garden, a nice car and regular holidays and not wanting for anything, being able to spend quality time regularly with family and being happy every single day! I guess that is the dream…
Contact
Website - www.nippletattoos.co.uk