Amy Crabtree - owner, cakes with faces

Amy Crabtree is a UK graphic artist/designer and owner of Cakes with Faces, a brand of colourful t-shirts, clothing and gifts with cute designs inspired by Japanese kawaii which she sells online and at Comic Con events. She started her business as a hobby, and 3 years ago quit her job to become full time self-employed. She also makes videos about Japan, with over 1 million views on YouTube.
This year she was a finalist for Business Entrepreneur of the Year in the Coventry Telegraph Business Awards, and Cakes with Faces has been featured in The Guardian, BBC Radio and nominated for 4 NEO Awards (Best Specialist Company).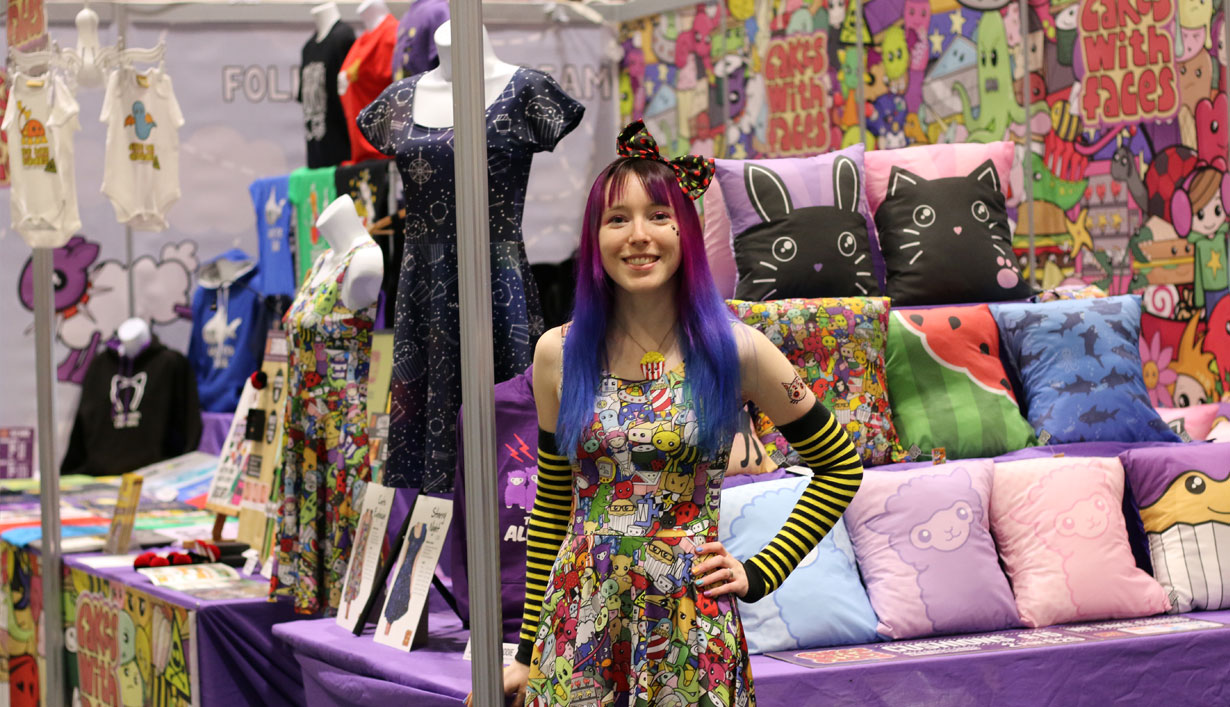 1. Who inspires you?
Haruka Kurebayashi – she's an icon of Harajuku, the home of alternative fashion in Tokyo (and my favourite place to go shopping!). Her style is just so colourful and quirky – she's bold and not afraid to be different and stand out from the crowd. I was lucky enough to meet her last summer – she's absolutely adorable and such a lovely person. I interviewed her for a video, half in English and half in Japanese – I translated all the questions just in case, but as it turned out she understands English really well!
I think it's great to have role models or idols and have those magical moments when you meet them – as long as you keep it in perspective, it's really motivating,
2. What gets you out of bed in the morning?
When you love what you do, it's not hard to motivate yourself. There's always a million things I want to achieve and never enough time.
3. What keeps you awake at night?
There so many details to obsess over when you're designing new products, and lots of tiny decisions to make. Introducing new products is exciting and I love designing new things – one of my missions is to bring colour to people's everyday lives with fun designs. But it is a risk, which involves investing in a large volume of stock before you know if anyone will want to buy it! So all these little decisions are important, and it can be hard to be objective and decide what's best.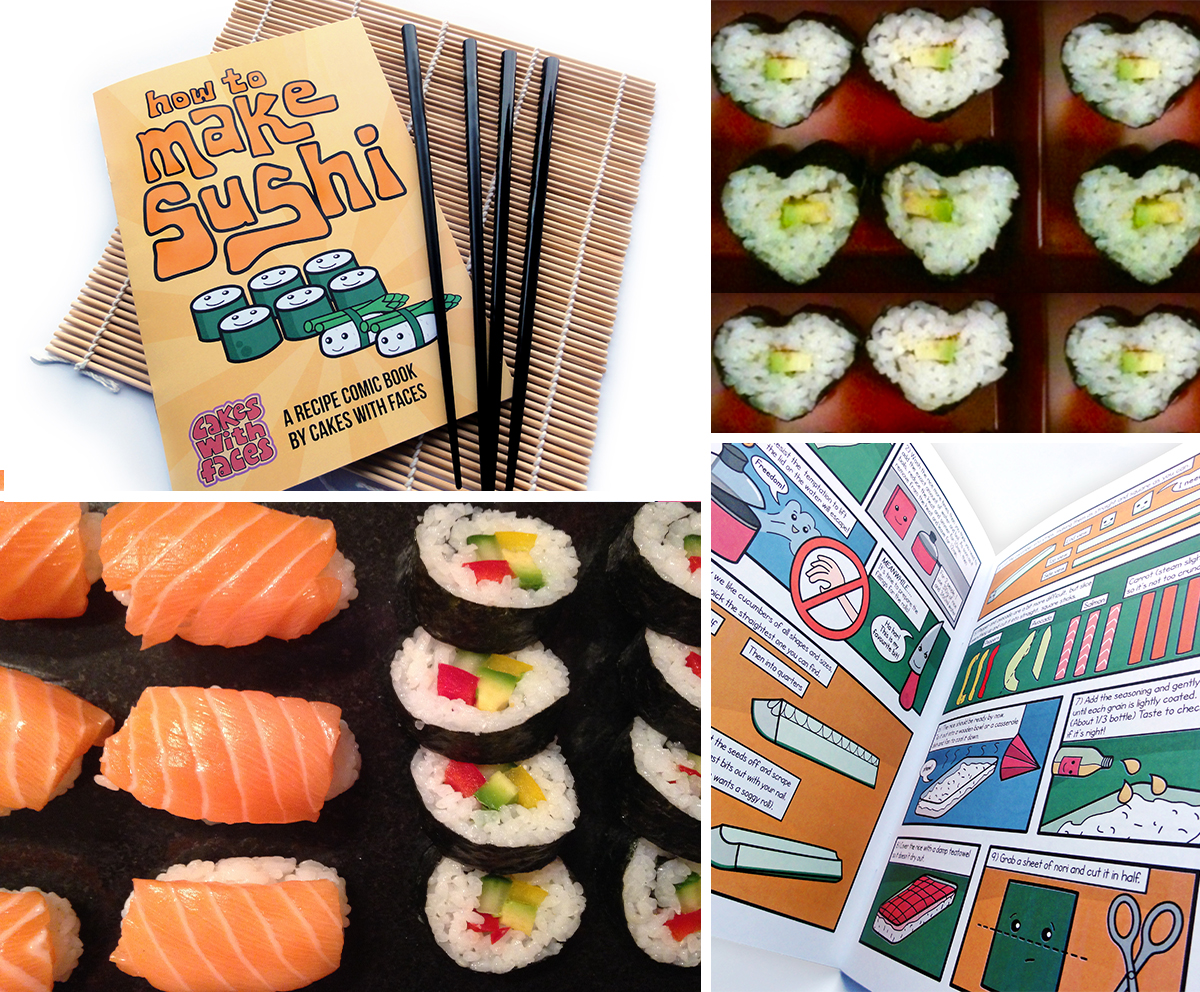 4. What's your signature meal and who would you cook it for?
A sushi feast! It's a fun way to spend the evening with friends, making sushi rolls together – I'm excellent at kappamaki (cucumber rolls). When you make your own you can have as much as you want without worrying about the bill. I wrote a comic book about how to make it at home.
5. How do you manage your time?
Lists lists lists! Just on paper, nothing fancy. I've started using a proper diary this year and it really helps to plan things properly rather than keeping everything in my head. I'm not naturally an organised person so I have to force it upon myself!
6. Best bits (s) of advice ever received?
Before leaving my job, one of my (older) colleagues was talking about the tear-jerking opening to Pixar's film "Up!" and the old man looking back at his childhood dreams in his adventure book. They told me: don't leave it too late, make sure you do your adventure book.
7. What is the best and worst purchases you've ever made?
Best: Does my hamster count? Maybe she's not really a purchase… Ok, my first ticket to Japan. I'd been interested in Japanese culture (design, food, fashion, music) for years and I'm so glad I went. The trip of a lifetime turned out to be the first of many. Now I make videos about Japan and travel vlogs, and my channel has had over a million views. It's such a big inspiration to me.
Worst: When I was starting out I booked a (very expensive) booth at a trade show. I quickly discovered the event wasn't for me and I had to sit it out for 4 long days. Sometimes you have to try things to learn and discover what's right for you.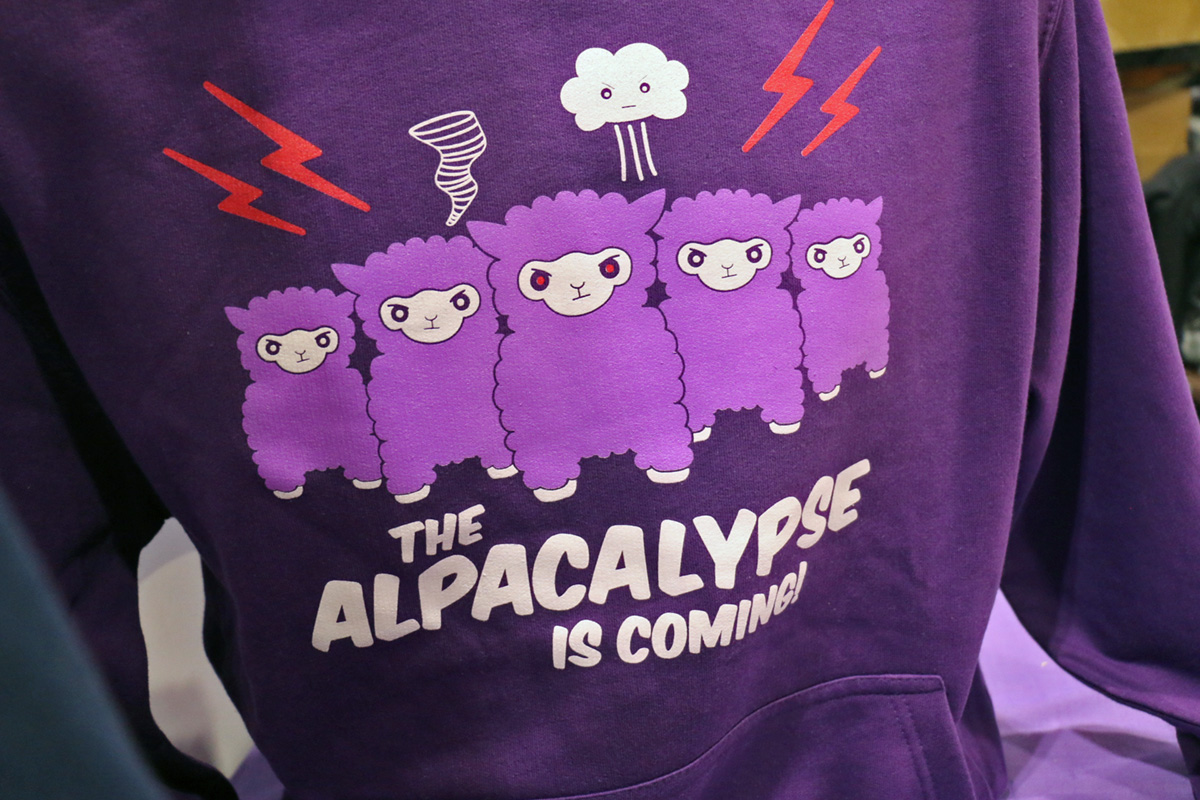 8. What is the closest thing to magic?
How ideas come to you from nowhere. As a designer you can talk about your inspirations and styles that influence you, but really, ideas seem to magically come to you. I don't know where the Alpacalypse came from – I drew it one day and now it's one of my most popular designs!
9. Do you have a mentor? What value do you think a mentor brings to a business?
I don't have a mentor, but it does always help to talk things through with someone else, especially if they have an outside perspective. It's so much easier to see the answers to other people's problems than your own.
10. What unusual food combinations do you enjoy?
Toast dipped in sesame seeds (for breakfast) – try it, it's delicious! And it's probably a crime against food but I love pasta with gochujang, veggie hotdogs and grated cheese!
11. How can female entrepreneurs further support each other?
By remembering that helping others doesn't make you less successful yourself. It's not necessarily a competition - we can all grow together.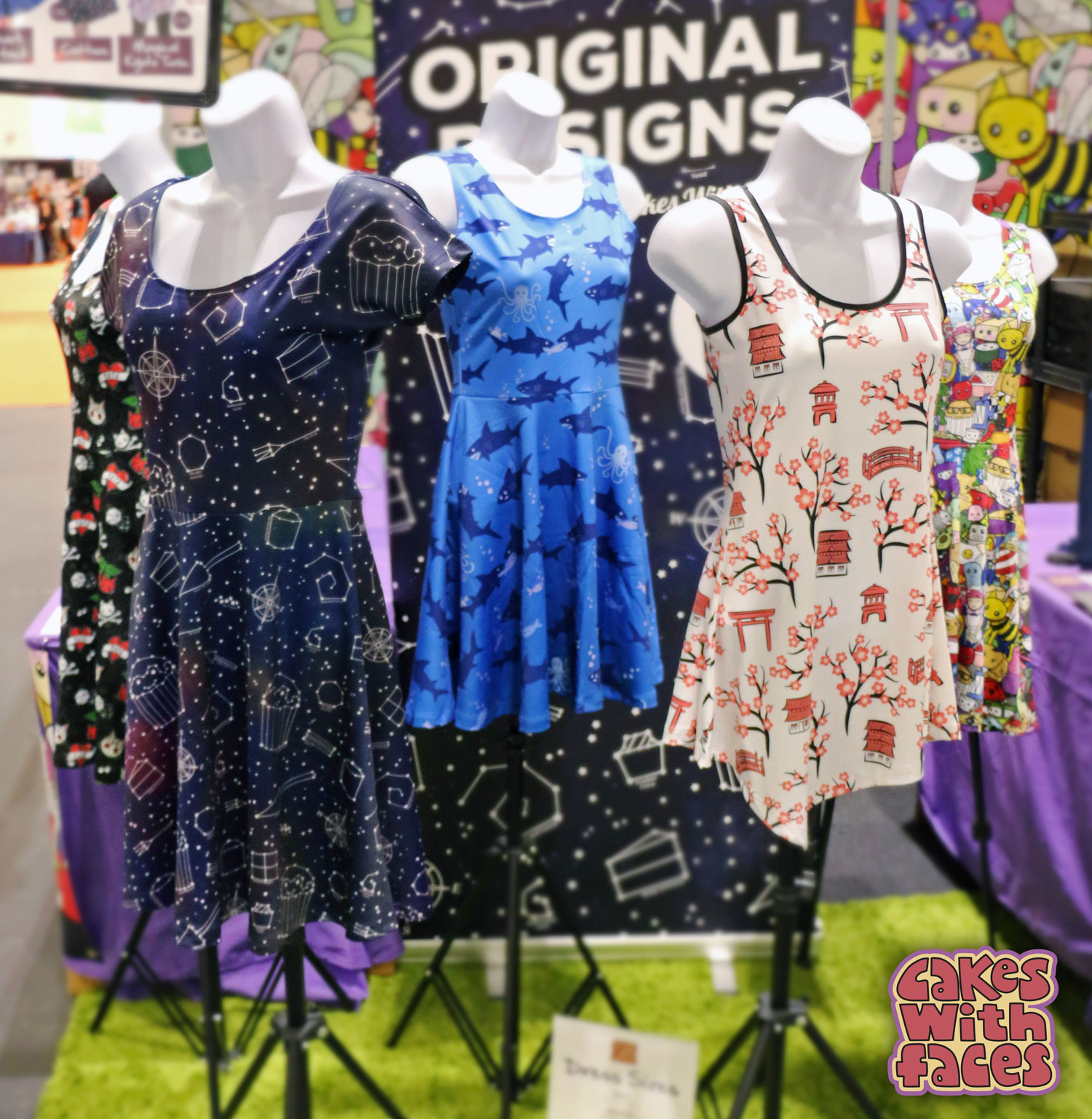 12. What's something that will always be in fashion, no matter how much time passes?
Having your own original style. I really don't pay much attention to fashion – I believe you should wear whatever you want, and whatever makes you feel happy and comfortable. (For me that's being colourful!) If you're never in fashion, you can't be out of fashion, right?
13. What was the last thing you did that made you really proud?
You can reach all the business milestones you want, but it's the reactions and messages from my customers that really make me proud inside. When I have a stall, sometimes they bring me gifts and pictures, and it blows me away that they've taken the time to do that. One of my customers told me I'm an inspiration to their daughter who loves drawing and Japan. She said, "you're doing so much more than just running a business".
14. If you were to give advice to a fellow female entrepreneur what would it be?
You have to put yourself out there. It's not enough to make something or build a website and expect customers to come along; you have to work hard. Don't be afraid of self promo - if you don't promote yourself, who's going to?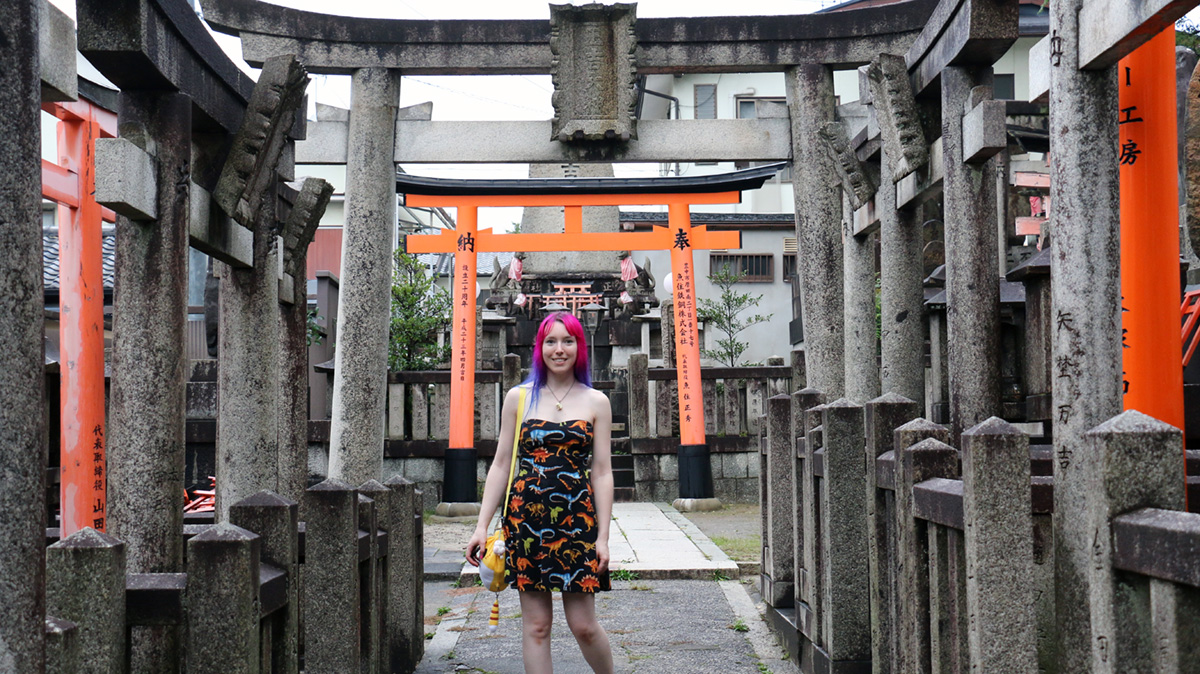 15. What does success look like to you?
Success is a goal that changes as you go along. If you're ambitious, you'll always want to be more than you are, and it might never feel like you've got there. I really like Johnny Cupcakes' quote: "Real success is being happy doing what you love."
16. How has social media helped your business?
My followers are amazing and I feel like I have a real community on social media. Recently some of my designs were stolen, and the response from my followers was incredible – I really feel their support. As my business is online, chatting on social media makes it less one-sided and helps me connect with them, wherever they are in the world. It's also a way of showing some personality and sharing what Cakes with Faces is all about.
 
CONTACT
Website - www.cakeswithfaces.co.uk