By Jemma Heathfield, Content and Social Creative
I still find it hard to believe that it's already been nine months since I graduated from Nottingham Trent University with a First Class Honours in BA (Hons) Fashion Communication and Promotion. Whilst I miss the lifestyle more than the crippling weight of work on my shoulders, I do truly miss it all (just not the hangovers after the socials!).
During a catch up over coffee with my lecturer back in November, I was invited to give a lecture to third year FCP students on Wednesday 28th February. Our Social Media guru, Scott was also due to present about our hybrid offering of The Department of Sharing and Zest The Agency, giving tips to graduates, example case studies and a run down on agency life. However, the wicked #BeastFromTheEast trapped him in Kent, and coincidentally trapped me in Nottingham!
Gazing up at a sea of 90 students was exciting yet nerve-wracking; it was so odd to be stood at the bottom of the lecture theatre about to present. A year ago I was amongst the sea looking down, with the thought of leaving university unimaginable.
My goal was to deliver a very honest presentation of what I had done since graduating. I didn't want to be that person that came back to brag about how I'd secured a job right after I'd graduated. Not that there's anything wrong with that, I just didn't want to add pressure to the already very stressed third years.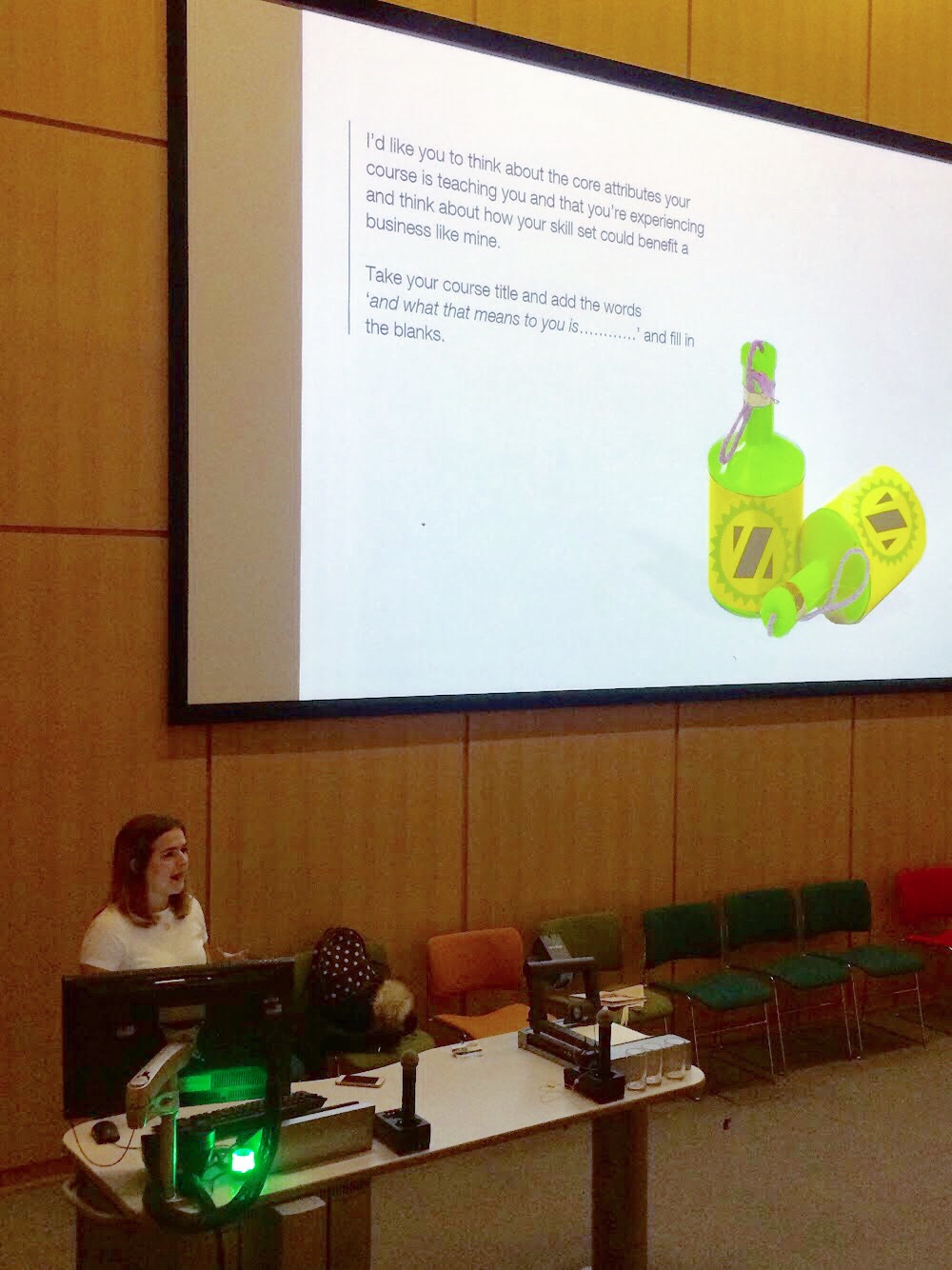 To achieve this, I included relatable memes and photos they could relate to; very beige dinners consisting of tinned spaghetti and chicken kievs; watching Loose Women when it all got a bit too much; and photos of me on nights out - to show we're all human, and you still need to go out and have fun. Third year, whilst very rewarding was incredibly tough, and I finished exhausted physically and mentally. I advised them to have the summer off, relax and have fun - you've got your whole life to work, have a few months off!
I was thrilled to make them laugh (several times!) and relieved to hear how much they appreciated my honesty. After a Q+A, I joined them in a workshop, showing my dissertation and answering further questions. From questions such as 'how much did your dissertation cost?' to 'when did you start applying for jobs?' I managed to put some at ease, encouraging and reminding them to enjoy the few months they have left at university.
I absolutely loved presenting to the students and it's definitely ignited a fire in me that wants to continue presenting to crowds, gaining confidence and sharing stories.